Naples: Culture & Craftsmanship
Naples: Culture & Craftsmanship
Even in Italy, Naples is unique. Its culture, its food, its people. The effortlessly stylish men and women, calmly navigating their mopeds through chaotic traffic. The highest concentration of craftspeople - tailors, shirtmakers, shoemakers - pretty much anywhere. Its eponymous ragu, pizza and gelato that are celebrated around the world. And the Neapolitans themselves, at once warm, genial, passionate, unpredictable. Especially the obsessive fans of SSC Napoli.
The Paolo Scafora logo embodies the roots, the tradition and the Neapolitan pride of the family-run firm. Indeed, the heart of the logo is the coat of arms of "Terra di Lavoro" (Land of Work), former Province of the Kingdom of Naples, described by the historian Scipione Mazzella in his "Descrittione del Regno di Napoli" (1601)
But there is one image of Naples that is honoured above all others: the gently rolling silhouette of Vesuvius, casting its shadow into every aspect of the city's life. A stark reminder of the awesome power of nature. But a provider as well: tomatoes grown on its sides explode with flavour, giving Neapolitan cooking its distinctive quality. Even tailoring is touched by this still active volcano: there is an old saying in Naples that a jacket should feel as light "as the breeze off Vesuvius." And Napoli's craftspeople truly take that idea to heart.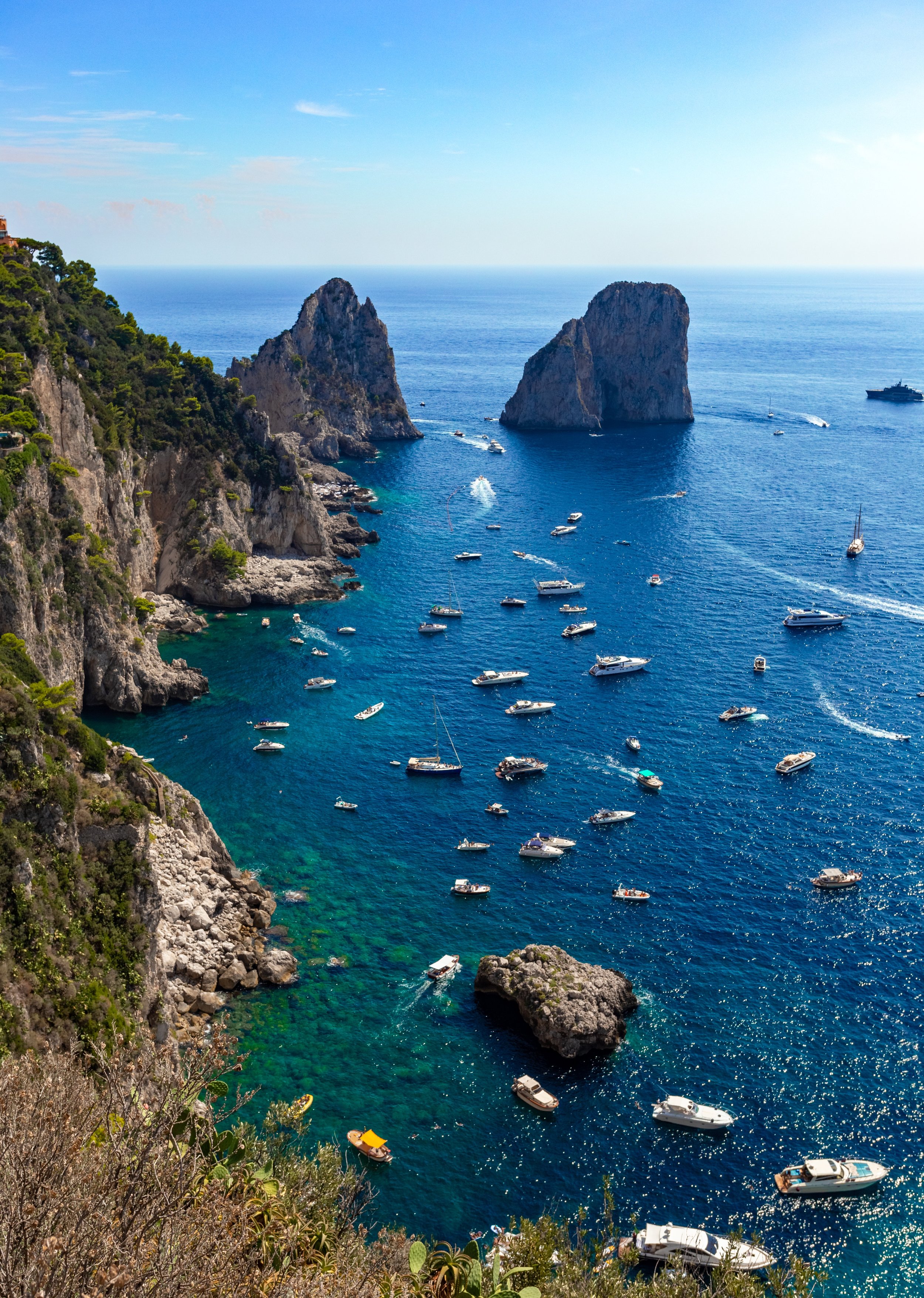 bordered on the north by the cities of Naples, Pozzuoli, on the east by Mount Vesuvius, and on the south by the Sorrentine Peninsula opening up into the Mediterranean sea.
The style they craft, Neapolitan style, is an international phenomenon not primarily because of trends or fashion but because it works. And it works because it is modern, it is now, without having to be "on point." It is at once casual and dressy, easy to wear yet sharp and elegant. Comfort elevated. It crosses over from the office to the cottage, from the week day to the weekend. It can be dressed up or dressed down. It travels well, quickly recovering from the rigours and indiginities of modern transport. And, most importantly, it is imbued with the skill, tradition and passion of Neapolitan craftsmanship.
The art of handmade clothing is in the blood of Neapolitans. Often you will find craftspeople who were not taught their art, they were raised it in. They have held needles and shears and fabric since they were young children. They continue a family legacy stretching back generations. Which means the clothing they make has the knowledge and experience of those generations sewn into every stitch. What does that actually mean? Neapolitan craftspeople have refined and perfected a silhouette that is flattering, soft, natural. Allowing you, your style, to shine through.
But we will give you one warning about Neapolitan culture and style: it is addictive. Once you fall in love with the city's approach to life, food, clothing - maybe even footy - you won't ever want to leave. Which is just fine.
Discover your next artisan experience.
Click below to explore our seasonal trunk shows